Holiday in Slovakia | Golf | 4seasons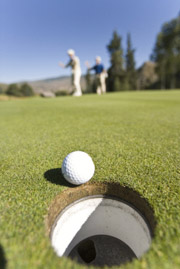 Travel agency 4seasons offers weekend and week trips in recently built constructed golf centres either in Slovakia or in the neighbouring countries of Austria, Hungary and or the Czech Republic. You can take a course at the a golf school and obtain a green card certificate. If you option choose Slovakia for a your holiday or a teambuilding meeting, you can combine it with playing golf. Although Slovakia is a small country, it has a wide range selection of golf courses:

- 18 hole Masters golf course Gray Bear in the Tale resort of in the Low Tatra Mountains
- 18 hole professional golf course Black Stork in the High Tatras resort, Velka Lomnica resort of the High Tatra Mountains
- 18 hole golf course in the a historical park with an 18th century Baroque castle situated only 5 km from the capital, of Bratislava
- 9 hole golf course in the world famous spa resort Piestany (wide range of wellness and curative treatment services)
- Golf club with 12 driving ranges, whereof 4 of which are under roof covered, offering excellent training possibilities in the vicinity of the beautiful historical town of Trencin.